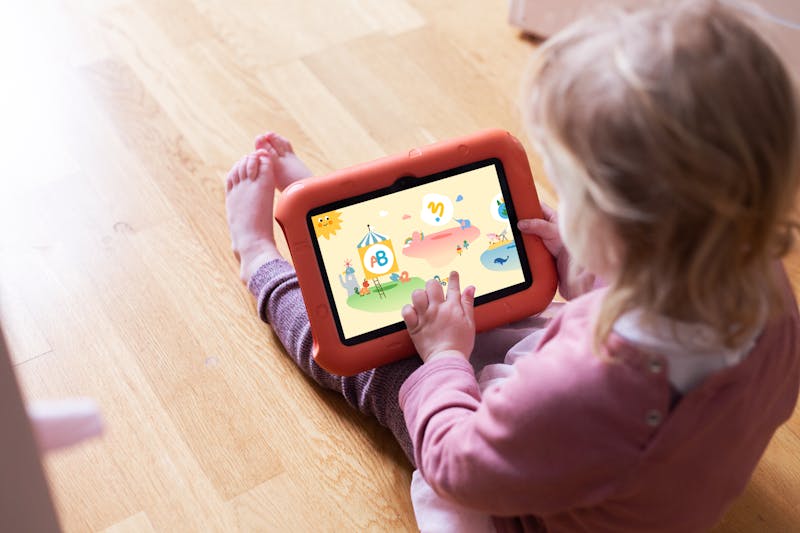 It's now been over a year since we started working on Lottie. With things moving fast on all fronts, from developing the first versions of our product, to building an amazing team, and much more, it's time for an update from behind the scenes.
Lottie's Promise
At Lottie, our mission is to make digital good for kids.
We know that screen time is an increasing reality for modern families, but one that is filled with friction for parents and children alike. Parents struggle to find experiences that work for them and for their kids, and often end up feeling lost and frustrated. It doesn't have to be this way and that's what drives us to build something new and exciting.
Lottie is going to be the tablet you actually want to give your kids. A magical device that kids love and brings parents peace of mind. To help build this healthy relationship with digital media, we are focusing on two core promises.
Firstly, we help children to learn how to interact with digital content in a mindful way. As parents, we've all seen the zombie mode and arguments that screen-time can create. Because of this, we are designing completely new interactions that help kids to understand and accept screen-time limits. By designing an experience, based on child psychology, that enables them to build routine, manage moods, and have more clarity around time, we can help kids to remain present and aware whilst interacting with media.
Secondly, we see huge potential for educational experiences that feel more like fun than learning and want to encourage playful development by creating an engaging, multimedia experience that they can feel ownership of. Lottie will have a fantastic and broad range of safe, age-specific shows from known titles to undiscovered gems. In addition to this, we are creating our own unique content that ranges from interactive games to apps, that will ensure a balanced curriculum of content that's based on the different phases and elements of a child's development. Stay tuned for a deep dive into our approach to building and curating the best content experiences.
During the last year, we've spent countless hours of research and interviews with child development experts, content partners, and, most importantly, families, to really understand what makes the perfect digital package for young kids. We're increasingly confident that bringing this all together in one dedicated platform that works for both kids and parents, will provide the reassurance that with Lottie, your kids are in good hands.
Where we're at
We are currently hard at work on multiple fronts to bring this mission to reality. The tablet itself will be a high quality device, sourced from the best and most durable hardware, able to withstand the rigor of everyday toddler life. We are crafting, testing, and refining the core software experience to build this magical world for kids and a control centre for parents. And all the while, we are striking content partnerships for a rich and varied library of shows.
At the same time, we've been building the company! From just a few of us one year ago, we are now a team of 30 people from 14 nationalities working remotely across multiple time zones to make Lottie a reality. We couldn't be happier with our amazing team of designers, developers, parents, and passionate builders. If you're passionate about making digital good for kids and want to be part of the Lottie journey, please check out our open roles here.
What's next
Since the beginning of this year, we've been testing the Lottie experience with a small number of families and have already received plenty of invaluable feedback. It's clear that our vision for Lottie and the balanced approach to mindful usage and playful development is resonating with parents and kids alike.
💬 "Kids can be zombie-like after screen-time and this didn't happen at all with Lottie."
💬 "The content feels valuable and I like not having to always switch on the TV, it's convenient"
💬 "Between the iPad and the Lottie, I honestly wish I bought the Lottie tablet a year ago"
We're looking for more beta testers who would be excited to try Lottie and provide us with more insight into how it works for you and your kids . If you're based in Germany, please apply to be a beta tester by completing this short survey.
We are excited to continue building, refining, and perfecting Lottie ready for a wider audience. It's important for us, since we know it's important for you and your kids, that the whole tablet experience works flawlessly and is something everyone in the family can love. We look forward to sharing more insight into the product and experience as the journey continues. Stay tuned!